Driving Lessons Bath
Oct 16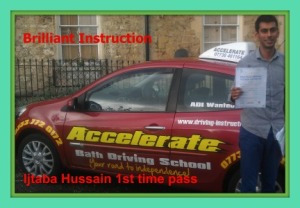 Driving Lessons Bath
" Having recently moved to bath I chose Accelerate bath Driving School because of the reviews I read on Google. I was not disappointed by the instruction that I received, it was brilliant especially the in car video. I was able to watch back my lessons and really learn from them. I would highly recommend Accelerate Bath Driving School to all my friends. Thanks Steve for helping me pass." Ijtaba Hussain, Bath.
Customer Reviews
Website
Driving Lessons Bath
Oct 16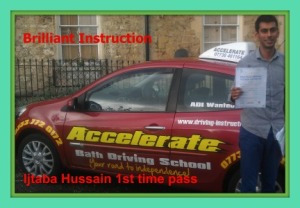 Driving Lessons Bath
Congratulations to Ijtaba Hussain of Bath who passed his practical driving test on the 16th Oct, with just 1 minor fault at Kingswood test centre in Bristol. Ijtaba drove almost perfectly on his test and showed the examiner a skilful and controlled drive. It was a pleasure teaching you to drive, enjoy your new found freedom from Stephen Paraskeva at Accelerate Bath Driving School. Driving Lessons Bath  Read our Customer Reviews
Read our Customer Reviews
Website
Driving Lessons Bath
Oct 15
 Driving Lessons Bath
"Since changing to Stephen Paraskeva at  Accelerate Bath Driving School from my old instructor, I am now learning a lot better. There is now a structure to the lessons, we recap the last lesson at the start. Then we decide together what i need to work on in the lesson, and at the end with questions he finds out what i have learnt in the lesson. He also fills in a progress sheet to keep a record of what i have covered and how i am doing in each subject. We then discuss what we will work on in the next lesson, so i have a chance to find out about the subject.
I really prefer the different way he teaches, it has really boosted my confidence. I now understand why i need to do certain things when i am driving thanks Steve."
Jessica Asquith Dagger, Bath
Read Our Customer Reviews
Website